Acid Resistant Epoxy Floor Patch/Resurfacer
Acid Crete 121 - Acid Resistant Floor Patch
PATCH AND RESURFACER FOR HIGHLY CORROSIVE AREAS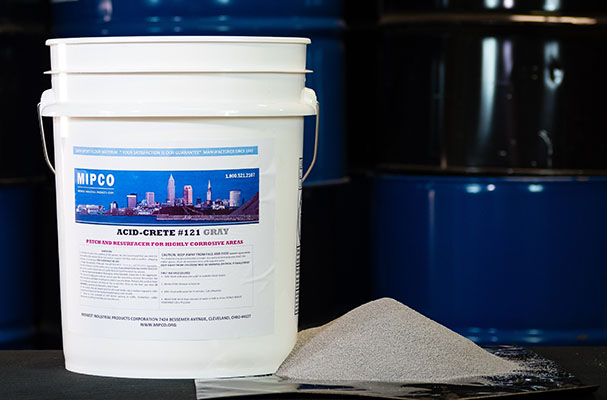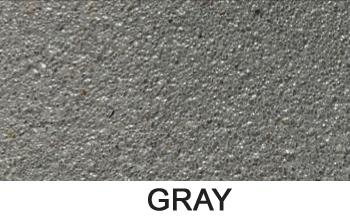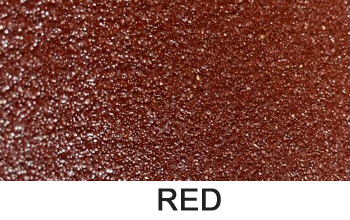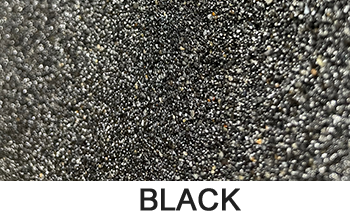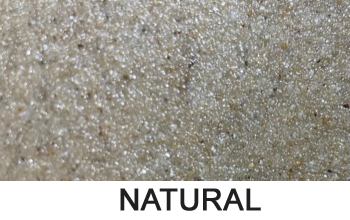 Acid Crete is a heavy-duty, acid resistant epoxy floor patch/resurfacer. Acid Creete is a chemical resistant, 100% solids, epoxy industrial floor patch that can stand up to brutal corrosive spillages without harm. This chemical resistant epoxy floor patch/resurfacer is a 100% solids epoxy system with a unique chemical structure that makes it highly resistant to corrosives and heavy traffic. It combines high tech epoxy resins and rock-hard aggregates that form a trowel-able product that will smooth out your eroded floor and protect it from future damage.
Acid Crete is resistant to Acetic, chromic hydrochloric (45%), Nitric (10%), Oleic, Sulfuric (75%), Phosphoric and many other chemicals.
Use: Patch and resurface floors eaten by acids and chemicals. Ideal for plating and chemical companies.
Procedure: The floor must be clean and dry! Mix the resin, hardener and aggregate and trowel onto the floor.
SET TIME: Pot life is 20 minutes. Allow an overnight cure before back to normal operation.
Colors: Gray, Red, Black, and Natural Tan
PACKAGING: Each unit is packaged in a 5 gallon pail containing pre-measured amounts of resin, hardener and aggregate.
COVERAGE: Each unit will cover 50 sq ft. @ 1/8"
SDS sheets are current as of April 6, 2021.
Floor Patch and Resurfacer for::
FERTILIZER PLANTS
LABS
WAREHOUSES THAT USE HARSH CHEMICALS
PLATING, CHEMICAL, ACID
---
What Makes Acid Crete Stand Out?
Chemical resistant epoxy floor repair and resurfacer
100% solids epoxy formula
Provides a Non-Skid surface
Meet safety standards for your floors
Zero VOC – Zero HAPS --Environmentally friendly!
Low Odor
Creates a smooth, attractive, easily-cleaned surface
Resistant to: Acetic, Chromic Hydrochloric, Nitrate 10%, Sulfuric 75% and more!
Holds tight at feather edges
Will hold up to steel wheel traffic and can withstand industrial usage
No Peeling or Cracking Over Time!
Keep your floors up to par with a permanent solution
We will send a FREE SAMPLE to guarantee satisfaction
Competitive pricing guaranteed
Technical Data
| | |
| --- | --- |
| Flexural Strength | 14,500 psi |
| Compressive Strength | 18,000 - 20,000 psi |
| Tensile Strength | 13,000 psi |
| Epoxy Type | Aromatic Amine |
| Flash Point | 230°F |
| Set Up Time | Initial set 6 hrs., Traffic 24 hrs. |
| Storage Life | 6 mos. |
| Gel Time | 30 min. |
| Coverage | 1 unit covers approx. 50 sq. ft. @ 1/8" |
---
Acid Crete Overview
Application Demo